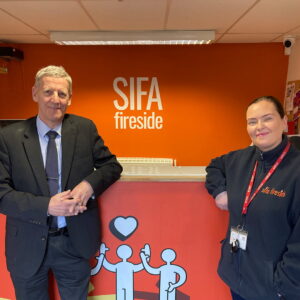 SIFA Fireside, a Birmingham charity supporting the homeless, has been announced by The Swan as its Charity of the Year 2022/23.
The centre will be fundraising throughout the year, in addition to supporting the charity through its events programme, including its popular Santa's Grotto. The centre will also be helping to raise awareness of the charity's services amongst tenants and shoppers through PR and social media campaigns.
SIFA Fireside is a day facility for the homeless or vulnerably housed across the city. Its day centre based in Digbeth offers people immediate access to hot food, showers, clothing, emergency accommodation and health and wellbeing services. Beyond this. The charity's resettlement team helps people to move on from homelessness with everything from legal and employment services to IT and language skills.
Barry Cartmell, Centre Manager at Swan Shopping Centre comments, "We are so impressed by the amazing work SIFA Fireside do to support the homeless. Anyone can find themselves in a vulnerable position due to circumstances, and we're privileged to be able to play a small part in helping those people get back on their feet and access the vital services they need. Our customers are incredibly generous in their support of local charities, and we know they'll be keen to get involved.
Melissa Roche Fundraising and Corporate Partnerships Manager for SIFA Fireside said: "Homelessness continues to be a massive issue for Birmingham, and unfortunately the trends show that more and more people are experiencing hardship impacted by the pandemic and the cost of living. The charity works tirelessly to support people who are struggling offering a whole host of services, all under one roof! This wouldn't be possible without the goodwill of our partners and supporters. We're excited to work with The Swan Shopping Centre and look forward to the opportunities ahead!".